<< BACK TO BLOG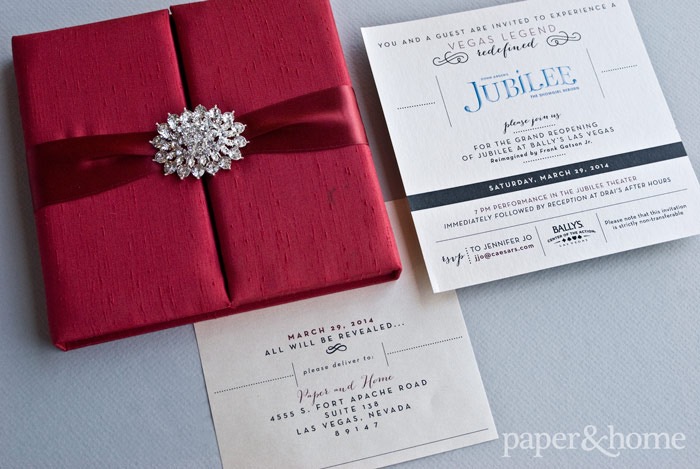 Last year, Paper and Home created some fabulous corporate event invitations for our clients at Caesars Entertainment. The legendary Las Vegas show, Jubilee, was relaunched in the spring of 2014 at its home in the Jubilee Theater at Bally's Las Vegas.
Jubilee is one of Las Vegas's most celebrated and longest running burlesque shows. The show opened in 1981 and was originally produced by Donn Arden, who is credited with developing the Las Vegas showgirl image of a statuesque dancer in sequins, feathers, and tall headpiece. After a 33 year run, this legendary show was relaunched with a modern twist.
That's a lot of history to live up, but our team was (as always is) up for the task! The invitations were sent to a very select group of entertainers and members of the media. We presented the invitations inside a fabric wrapped gatefold box, adorned with an ornate jewel and satin ribbon. Opening up the box unveiled an ultra-thick, 3-ply champagne shimmer invitation. Fabulous!
Attendees experienced a "Vegas legend redefined" and Paper and Home is honored to have put our mark on a Las Vegas institution.
Comments