<< BACK TO BLOG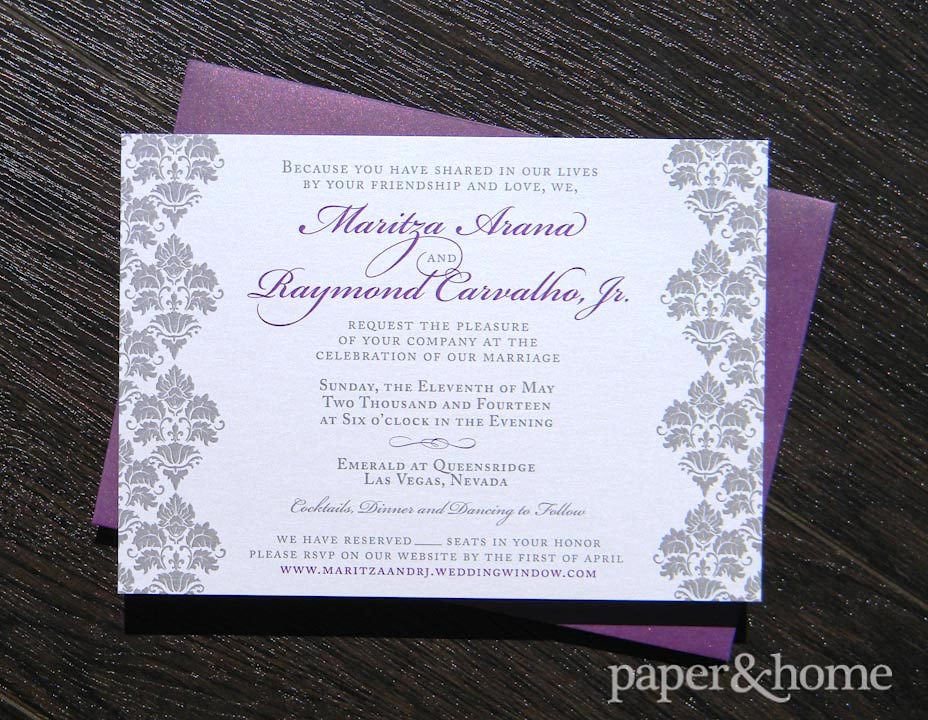 Maritza and Raymond met us at a bridal open house at Emerald at Queensridge. They fell in love with these damask wedding invitations from our in-house ready-to-order stationery album.
The invitation design was inspired by our Marisa Collection. The damask pattern frames the sides for an elegant, classic look. The design and the fonts are very classic, yet the color combination of purple and gray, is very modern. This pairing creates a unique set perfect for Maritza and Raymond.
The couple chose a pretty purple shimmer envelope that really pops! They also chose digital calligraphy, which is a must have. It's totally worth it, because it looks so nice and saves you hours of hand-aching addressing. Remember, no labels allowed on your invitations! The couple's return address was printed on the envelope flap, and their guests' addresses were printed on the front. Gorgeous!
Maritza and Raymond were wed this past spring at the lovely Emerald at Queensridge in the Summerlin neighborhood of Las Vegas, Nevada.
Comments