<< BACK TO BLOG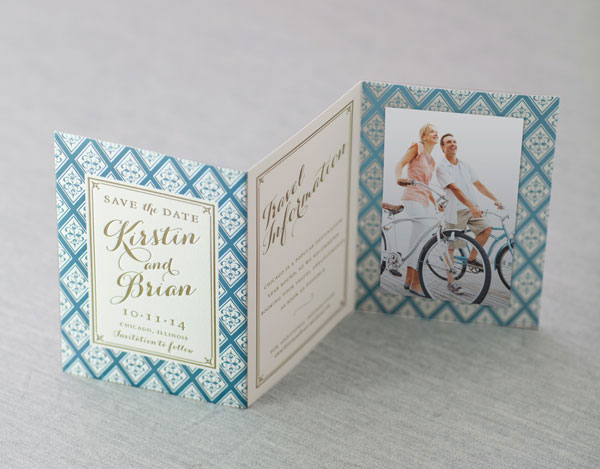 We are gearing up for the 2015 National Stationery Show here at Paper and Home! Our Las Vegas stationery store first started as a graphic design studio in our house in 2010. We've been at it for 5 years and love everything about what we do!
Our growth has been exciting, humbling, and all-in-all amazing! We thank you all for your support. As we get ready for the National Stationery Show this year, we're taking a look back to 3 years ago when Wedding Aces featured us and our favorite picks from the 2012 show.
From Wedding Aces:
Guest Post by Anne Chertoff
Stationery store owners and buyers see thousands of new designs at the annual Stationery Show. We asked some of the nation's top paper retailers to share their thoughts on  what lines made their "best in show" list.
First up is Brooke and Michael Coxen from Paper and Home in Las Vegas.  Here are their top picks:
What did you see as the top wedding invitation trend for 2012/2013?  
Foil stamping is a trend that more and more stationers are employing. Dauphine Press and Spark Letterpress were our personal favorites. They both utilized a wonderful blend of letterpress with foil stamping to create intricate patterns and distinct designs.
Photo courtesy of Dauphine Press
Was there a wedding invitation design element or feature that caught your eye?
Designer Jenn Sprinkle has introduced a casual tri-fold style invitation featuring a perforated reply post card. It has a back panel useful for additional information. It's an all-in-one package! The designs are fun, and they're functional—the perfect marriage for a bride on a budget.
Photo courtesy of Jenn Sprinkle
Would you recommend that couples mail a save-the-date card that matches their wedding invitation suite or go with any design that they are drawn to?  
It's always important that you order what you're drawn to. Specific elements or a particular font can relate the invitations to the save-the-dates. You'll find that everything will come together, because it's your own personal style!
Overall, we're seeing many designers implement beautiful save-the-date designs into their wedding albums.
Any new color combination you're really excited about?
Neon letterpress inks are so much fun! The right mixture makes for a rad card.
Overall, are you seeing more formal invitations, DIY designs or casual invites?
We're seeing more casual designs with hand-drawn illustrations and cute fonts being incorporated into traditionally formal layouts.
Did you discover a new must-see line?
In their NSS debut, Wednesday Inc. out of Oklahoma City impressed us with a sensational album. Their designs are adorned with an abundance of graceful details. Each collection is a true work of art.
Photo courtesy of Wednesday Inc.
Comments