<< BACK TO BLOG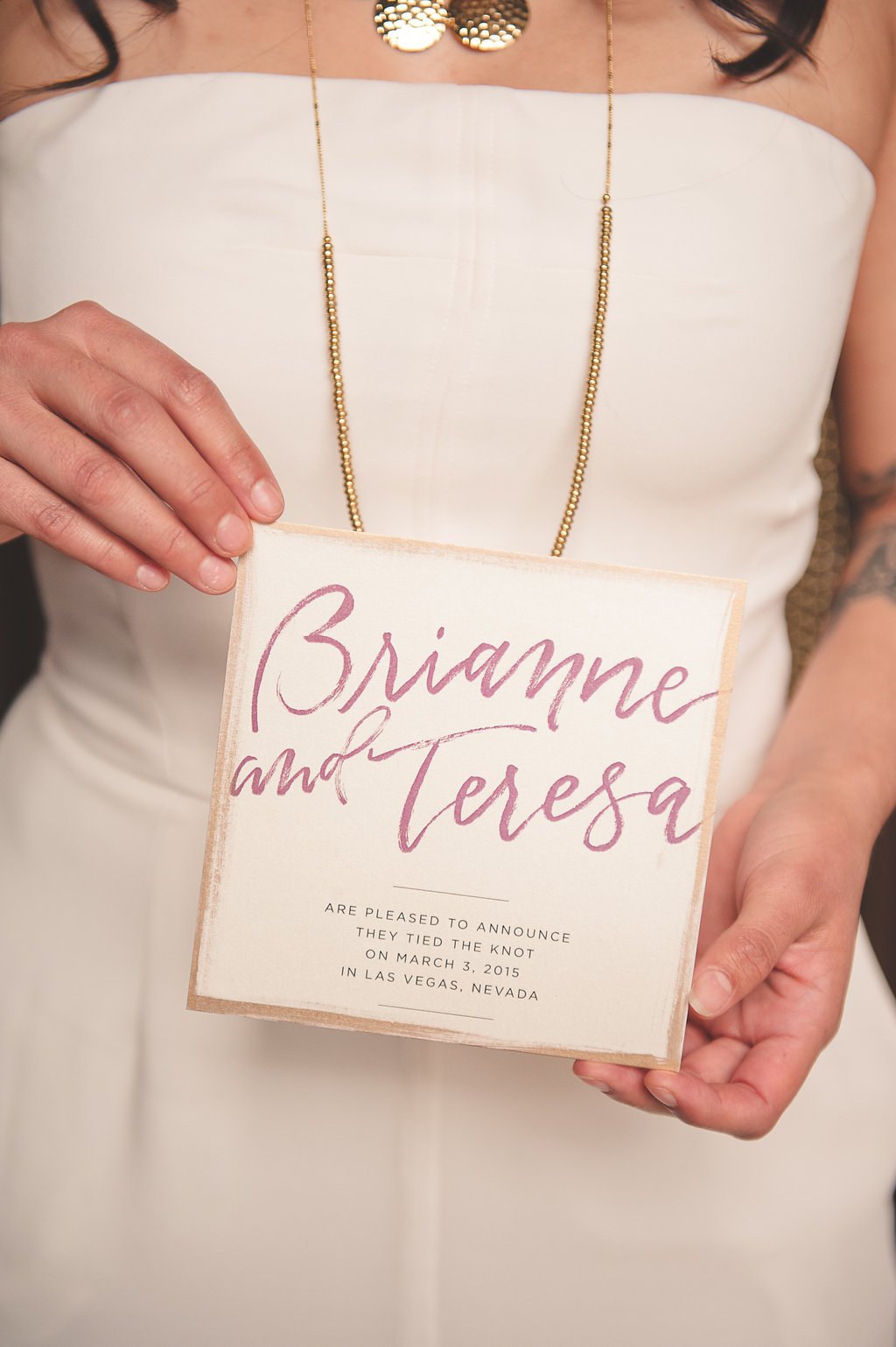 Las Vegas may be notorious for spur of the moment weddings, but this photo shoot proves they can be glamorous! We hand calligraphed elopement announcements for a stylized shoot by Orchestrated Shoots.
The theme was vintage Vegas glam. There were a number of amazing vendors involved in piecing this beauty together. It came out so well, that Every Last Detail blog featured the entire shoot. Our contribution included elopement announcements with the two brides' names hand written in a modern calligraphy style. We hand painted the edges of each announcement in gold and brushed a black envelope liner with the same treatment. The deep red envelope paired with the couples' names on the card.
The gold paint treatment was also prominent outside the red envelope. The guest addresses on the envelopes were done in a modern calligraphy style to match.
Here's a unique wedding idea: create a custom wine label to open on a milestone anniversary! We used the same gold paint edging and calligraphed names. The bottle is a memento to be enjoyed on the couples' 25th anniversary.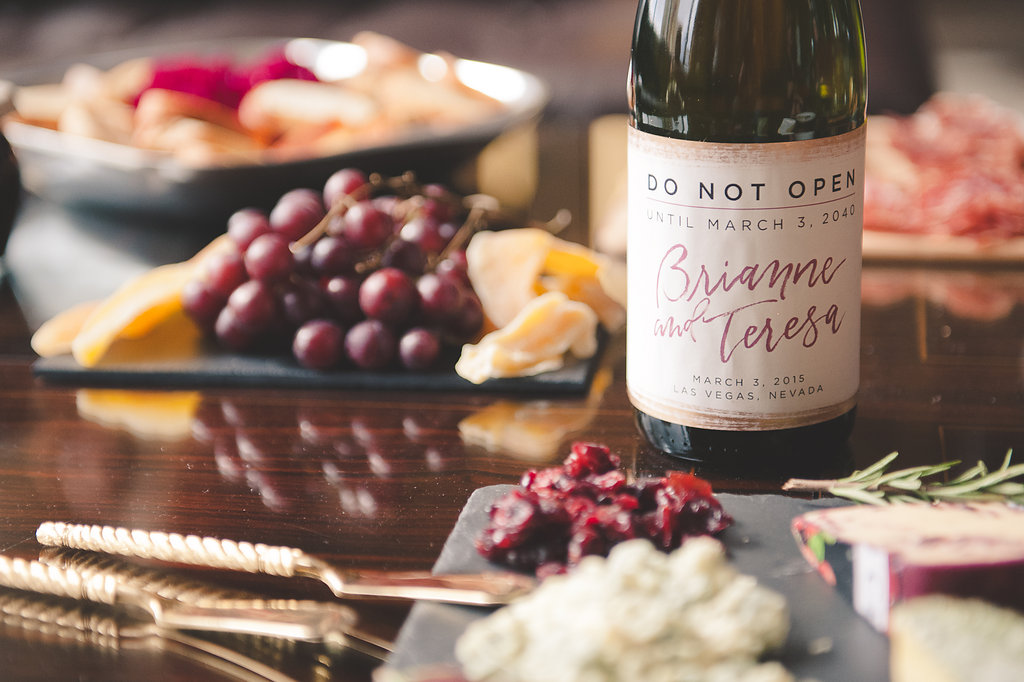 The couple had a signature cocktail, "Hearts on Fire," with Fireball Whiskey, Grey Goose Cherry Noir Vodka, and fresh lemon juice. We created a custom bar sign in gold calligraphy. It was framed in a dazzling gold frame to match.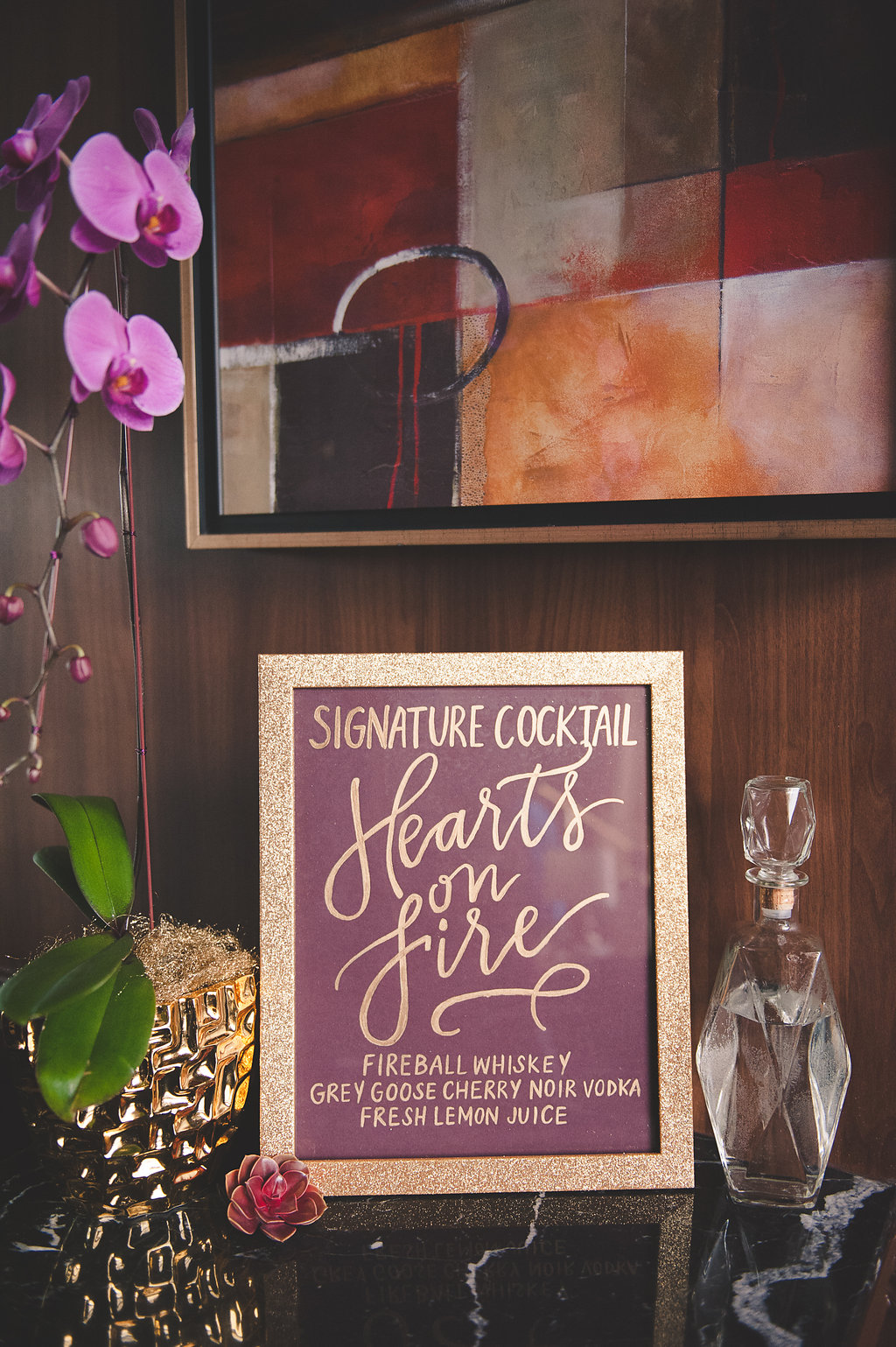 The name of this photo shoot was "Roulette." It was based on the premise that love is a risk, where the rewards are so great that it's worth taking a chance every time. And love is much better than the odds on the roulette wheel! We hand wrote a special message on a piece of round wood courtesy of Creations by Jeff. The message reads, "It is a risk to love. What if it doesn't work out? Ah, but what if it does?"
You must go and check out the entire inspiration shoot on The Every Last Detail! There's a ton of gorgeous ideas for your wedding or elopement!
VENDORS WHO MADE IT ALL HAPPEN…
Concept Design & Logistics : Orchestrated Stylized Shoots/ Photographer: Bit of Ivory Photography/ Wedding Planner/Coordinator: Green Orchid Events / Reception Venue: Golden Nugget/ Flowers & Decor: Enchanted Florist/ Stationery & Calligraphy: Paper and Home / Ceremony Officiant: Peachy Keen Unions / Cake Baker: Peridot Sweets / Hair & Makeup: Your Beauty Call / Tableware: Dirty Dishes / Custom Woodwork: Creations by Jeff / Bridal Accessories: Olivia / Jewelry: Rocksbox / Custom Chocolate: Virginia's Finest Chocolates/ Bridalwear: Rent the Runway / Witness Model: Maygen Aleice / Models: Jessica and Amy
Comments