<< BACK TO BLOG
Brittany and her fiance, Bozidar, are a great couple with classic taste. They were excited to see blind letterpress wedding invitations in our Designers' Fine Press stationery album.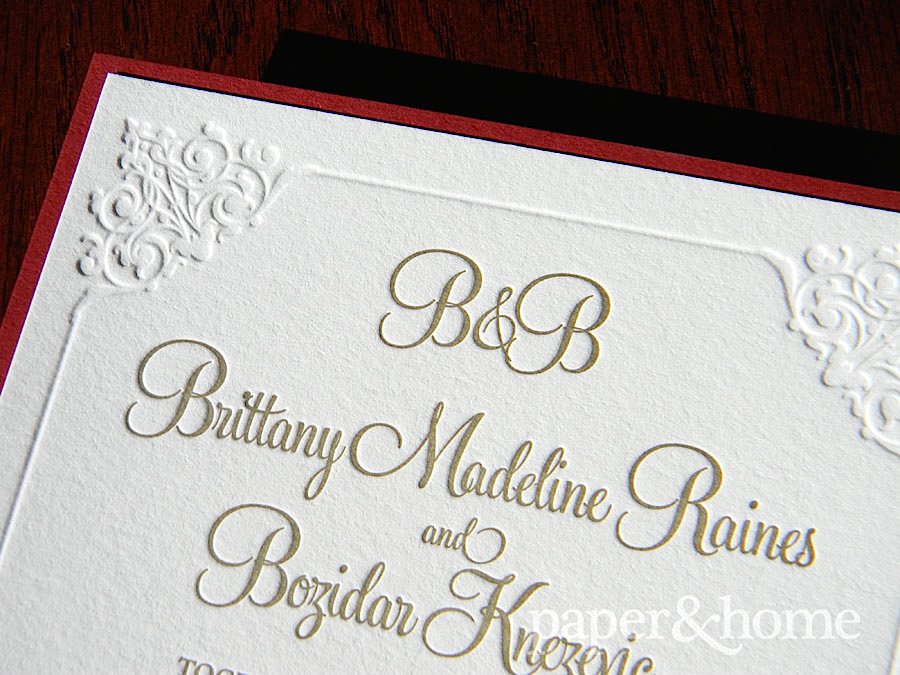 Brittany and Bozidar came to Paper and Home with an autumn color palette for their wedding, with a focus on cranberry red and gold. They appreciated thick paper and letterpress, and they wanted their guests to behold a luxurious invitation.
Brittany and Bozidar opted for two color letterpress, choosing a gold ink to pair with their blind (no ink) letterpress. The impression in the paper is so luxurious and ephemeral—we wish you could feel it on your screen! Oh well, you'll have to come see us soon for the experience.
The beautiful blind letterpress wedding invitations were mounted on red paper for extra thickness and a pop of color. After we received the invitations from Designers' Fine Press, the Paper and Home assembly team finished them with a ribbon embellishment.
Their white envelopes matched the invitation and featured an ornate design for their return addressing.
The couple carried their autumn wedding design theme into their seating board and table numbers. Instead of the traditional table number, they chose tree names for their tables. So cute and perfect for a fall wedding! Special thanks to The Secret Garden for the photos!
Following the wedding, the couple sent us this fun group shot for us to create their photo thank you postcards. Our design team incorporated another ornate design into the corners and implemented their cranberry red color. The thank you postcard included a message from the couple, along with a cute photo of Boz and Brittany riding off as husband and wife at The Secret Garden, a private and lush wedding venue just minutes from the Las Vegas Strip.
Comments