<< BACK TO BLOG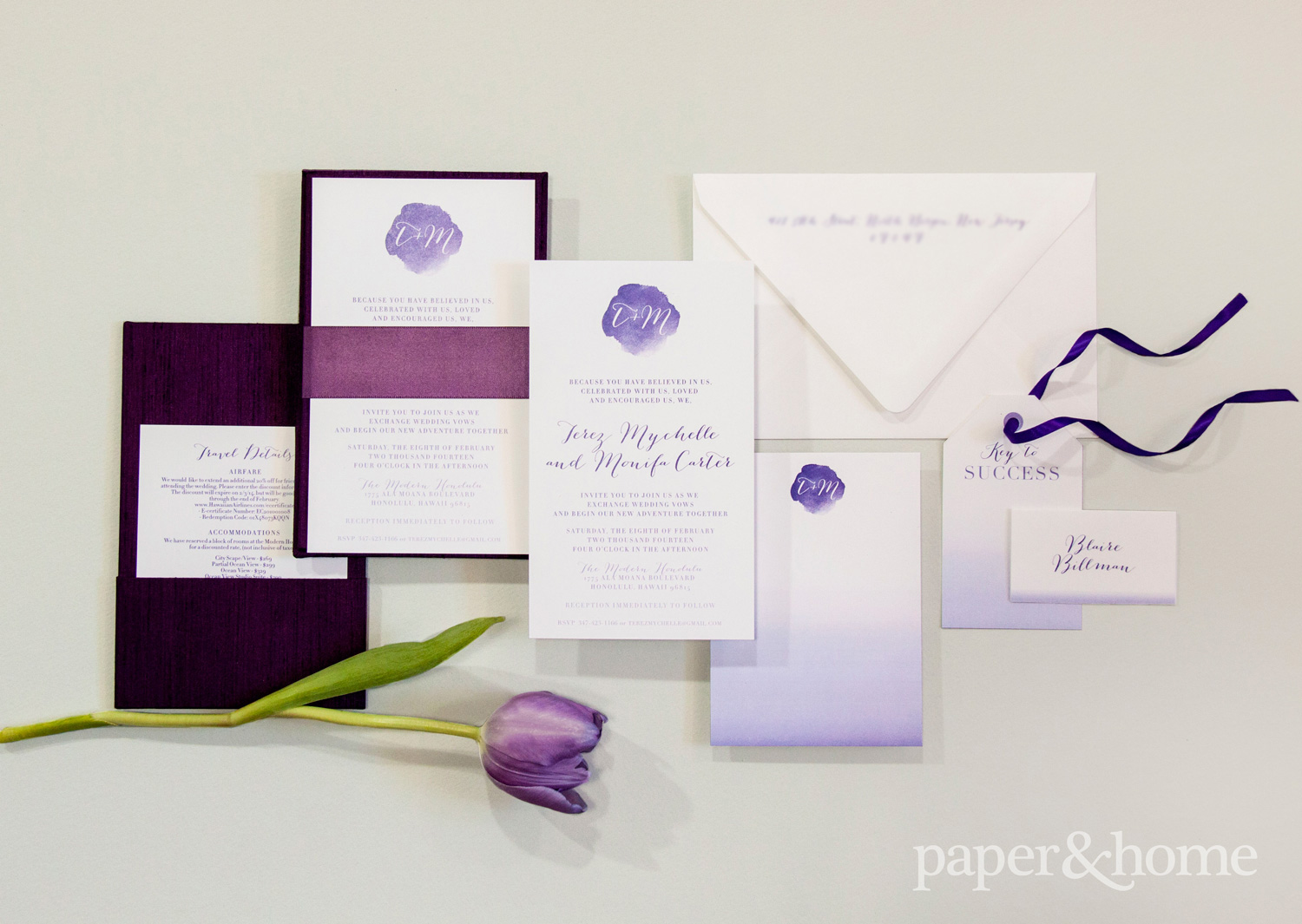 Paper and Home is proud to have participated in a monumental LGBTQ wedding earlier this year. We received lots of attention from the media, including Pop Sugar, who described it best…
Monifah Carter, who stars on the reality TV show R&B Divas, wed her girlfriend, Terez Thorpe, in Honolulu this February and made history Wednesday, June 25, with the big day airing on TV One. Monifah and Terez's wedding is the first televised African-American lesbian wedding in the US. Wedding producer Brit Bertino of Brit Bertino, Event Excellence designed the tropical affair, inspired by the couple's request that it be a "beautiful and meaningful, music-filled wedding." She tells us, "Their stunning celebration included a custom bridge built over a pool for Monifah's entrance and over 4,000 stemmed ombré orchids placed over a driftwood canopy, accented by delicate petals lining the aisle." Yeah, seriously gorgeous. Brit elaborates on the stunning event:
INSPIRATION AND DESIGN
"We drew inspiration for the design of the event from Monifah's engagement ring, an amethyst stone. The color allowed us to bring in some natural earth elements, and to incorporate nautical touches, as both brides wanted an earthy feel to the overall design. We carried the ombré concept through the stationery, linens, cakes, signature drink, and florals, and the result was as unique as the beautiful couple themselves.
"Music was another one of the most important elements. Mahi performed during the ceremony, as did Rahsaan Patterson. Other close friends performed at the reception, including Keke Wyatt and Syleena Johnson. DJ Spark, also a friend of the couple, presided over the reception festivities."
THE DETAILS
"Another special feature of the wedding was the 'Fat Snack' table, which Terez simply had to have. The sweets included vegan, gluten-free peanut butter cookies made specially for her by the chef. Vegan diets were taken into consideration when planning dinner entrées selections, as well.
"In lieu of a traditional guest book, Terez and Monifah asked their honored guests to write down their best wishes and advice for the couple at the 'Keys to Success' table on how to keep and maintain a successful marriage throughout the years."
STATIONERY
Paper and Home met with Brit to put some of their ideas to paper, including the purple amethyst stone and ombré effect. Monifah and Terez are a modern couple and we all agreed that their invitations and stationery needed to be a reflection of their style.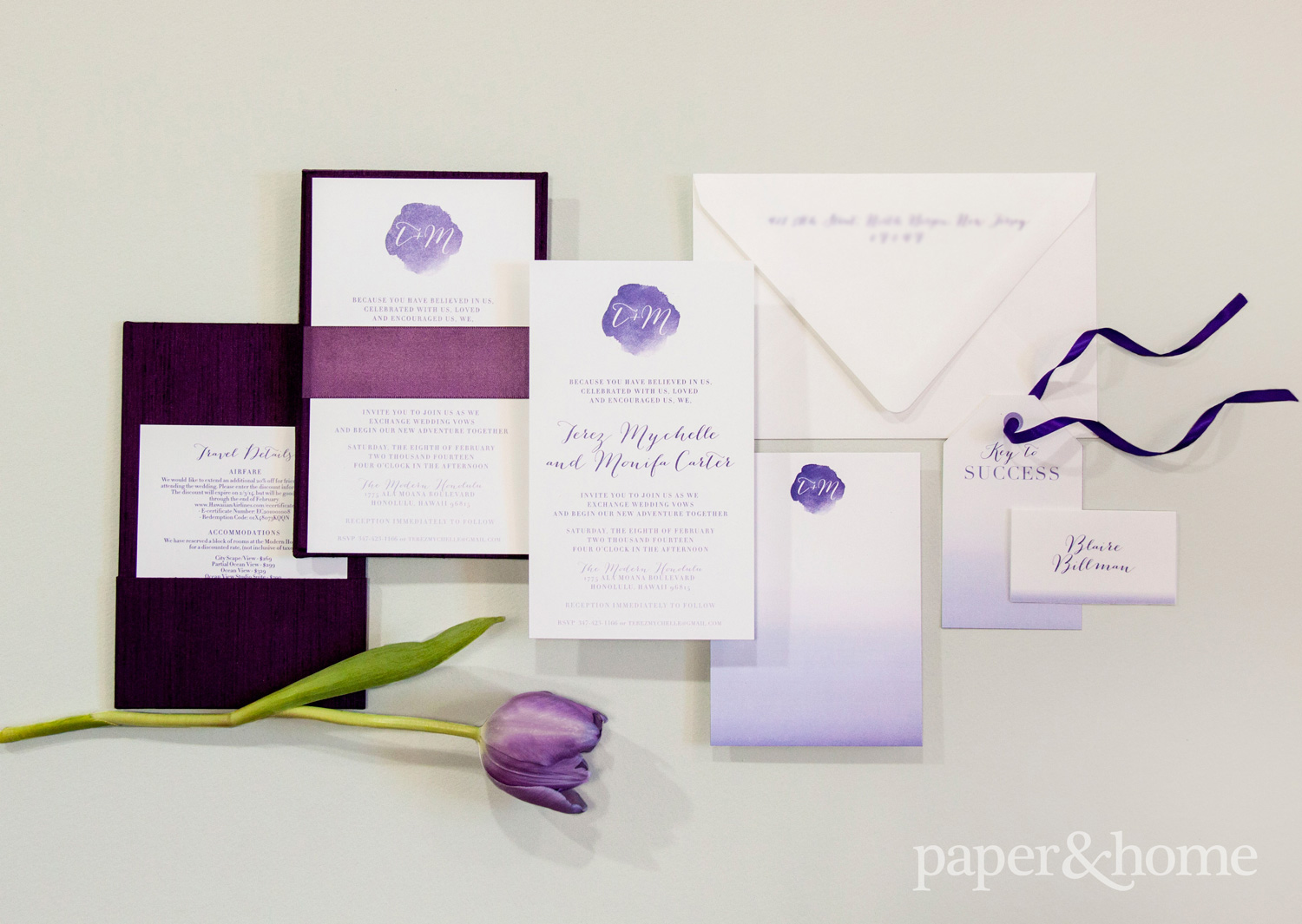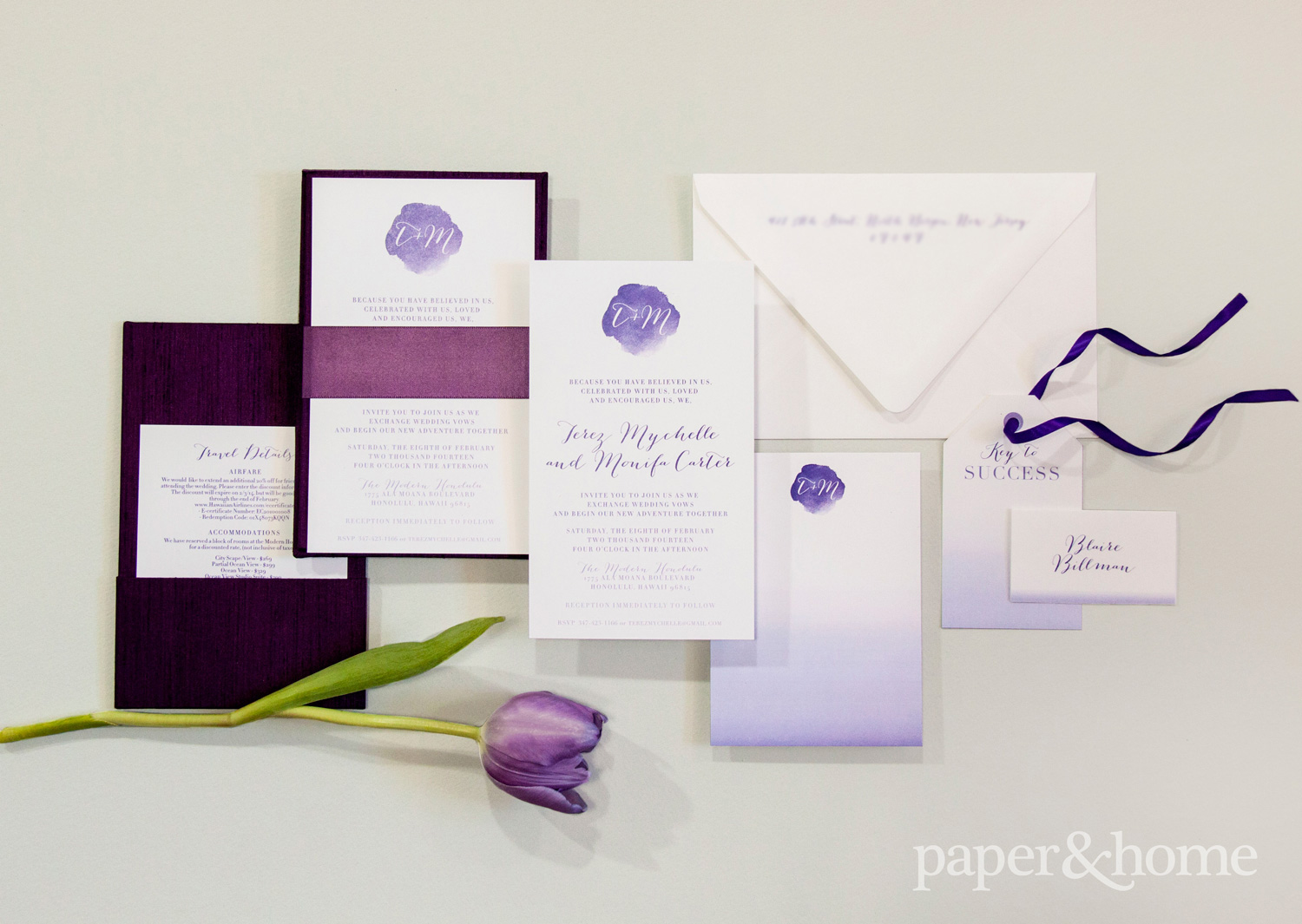 See all the beautiful photos from the wedding now!
THEIR LGBTQ-FRIENDLY WEDDING VENDORS
Wedding Producer: Brit Bertino of Brit Bertino, Event Excellence
Photographer: Frank Amodo Photography
Ceremony/Reception: The Modern Honolulu
Decor/Floral: Teresa Sena Designs and White Orchid Weddings
Cake: Cake Works
DJ: DJ Spark
Stationery: Paper and Home
Linen: Wildflower Linen
Entertainment: MRS-Events
Audio Visual: PSAV
Hair: Derek J
Makeup: Reign Brice
Officiant: Dr. Allyson Abrams
Comments