<< BACK TO BLOG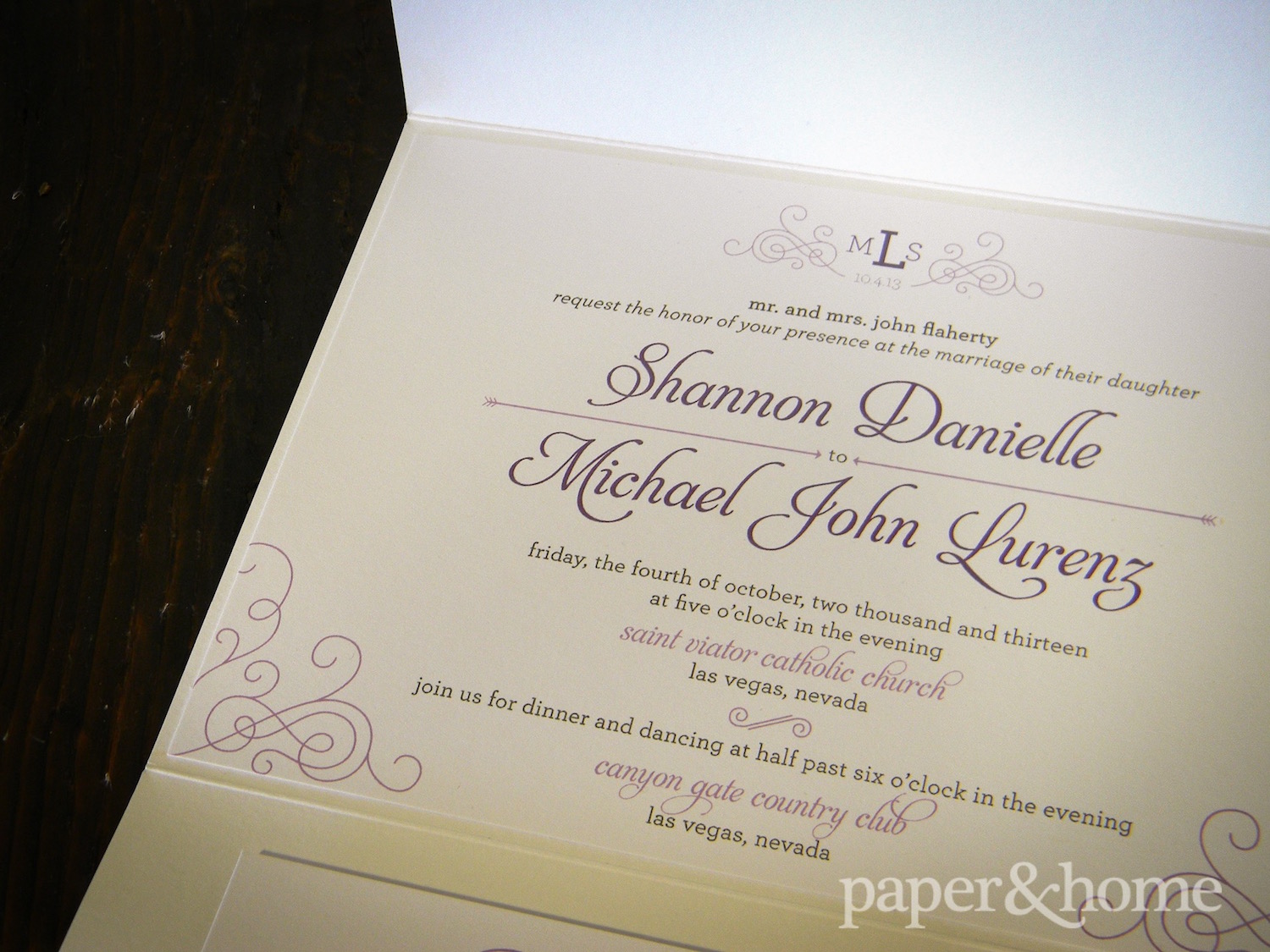 Sometimes, the way to impress your wedding guests is through the simple things. That's exactly what Shannon and Michael, a beautiful couple engaged to be married, wanted from their wedding invitations. We couldn't agree more. We met these two at Bridal Spectacular, and after reading our online reviews, they chose us to create these purple and white wedding invitations to suit their style.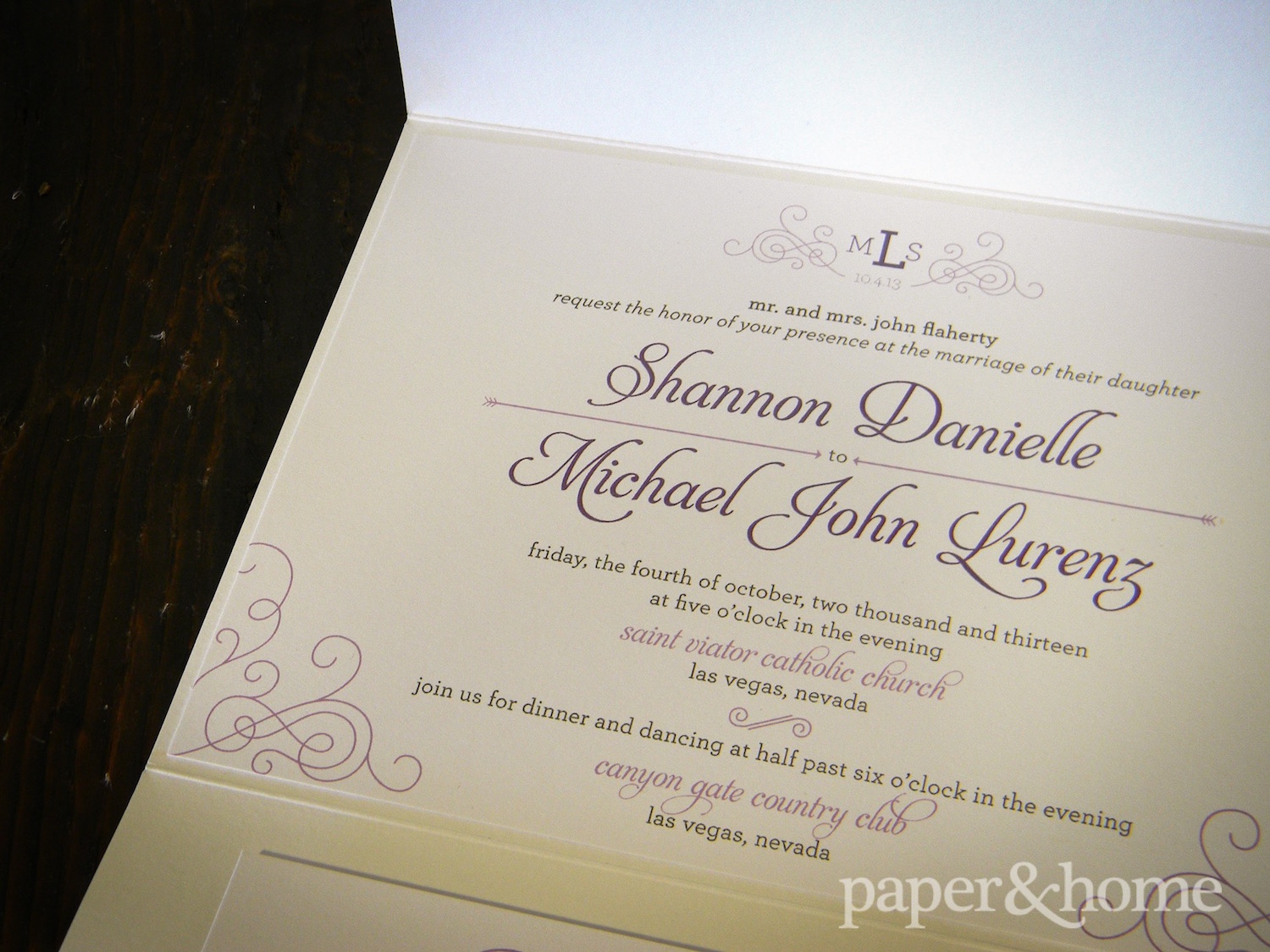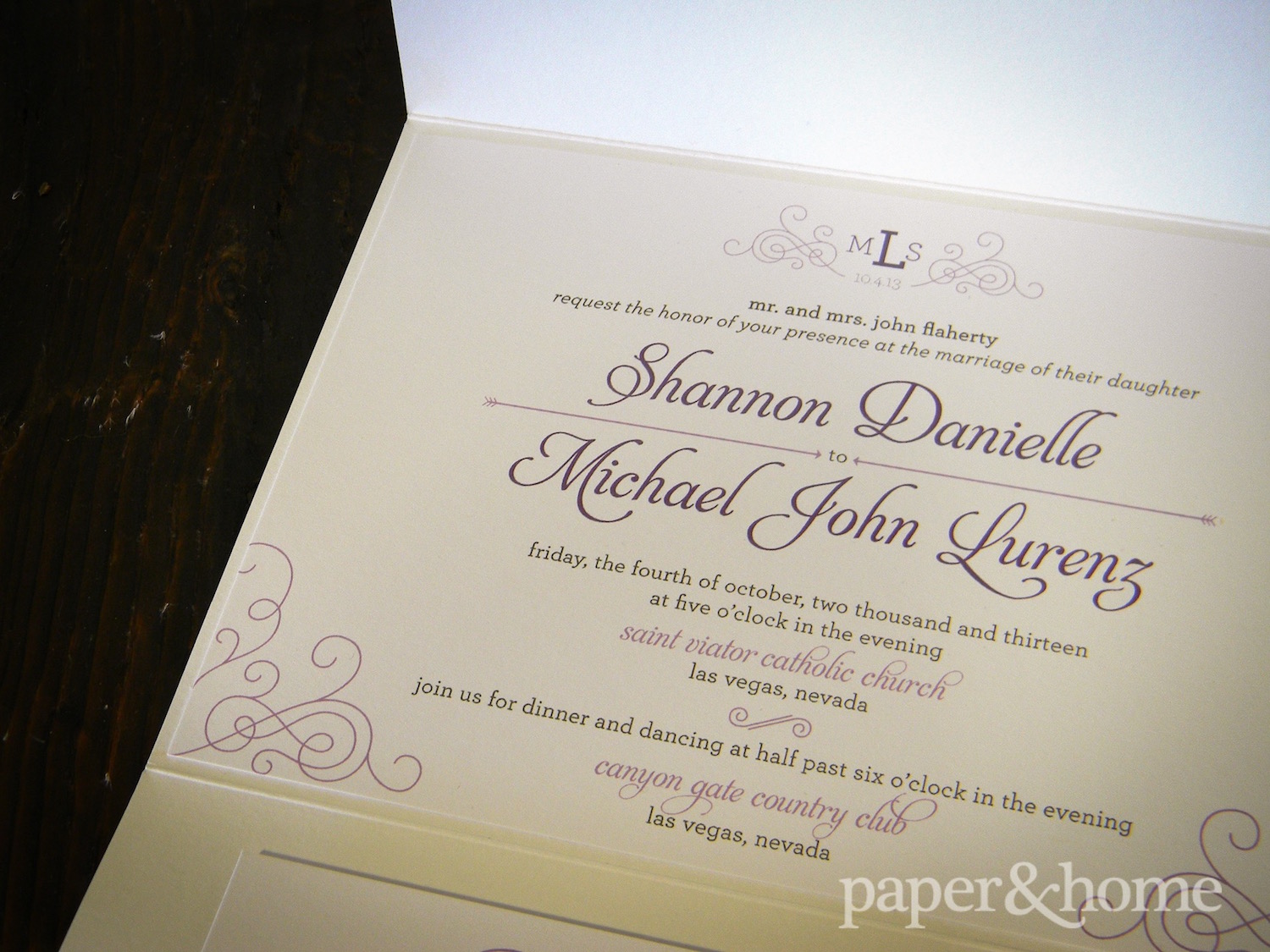 We created this design with minimal flourishes and cute arrows for a little detail. Shannon and Michael opted clean, easily readable fonts. Going for a traditional, minimal design was no mistake from their side, as they wanted to have a wedding that reflects that style. This invitation design suits them perfectly for sure. Shannon and Michael agreed that while the design should be simple, they wanted to integrate some of their own ideas into the product.
And they did exactly that. Their favorite colors are simple shades of purple. They opted for a custom monogram that now holds a unique meaning for both of them and their families. The monogram adds a lot of character to an otherwise understated invitation. Adding in that custom appeal and making such invitations unique is what makes our entire experience special, and it was our pleasure to bring in custom features for Shannon and Michael.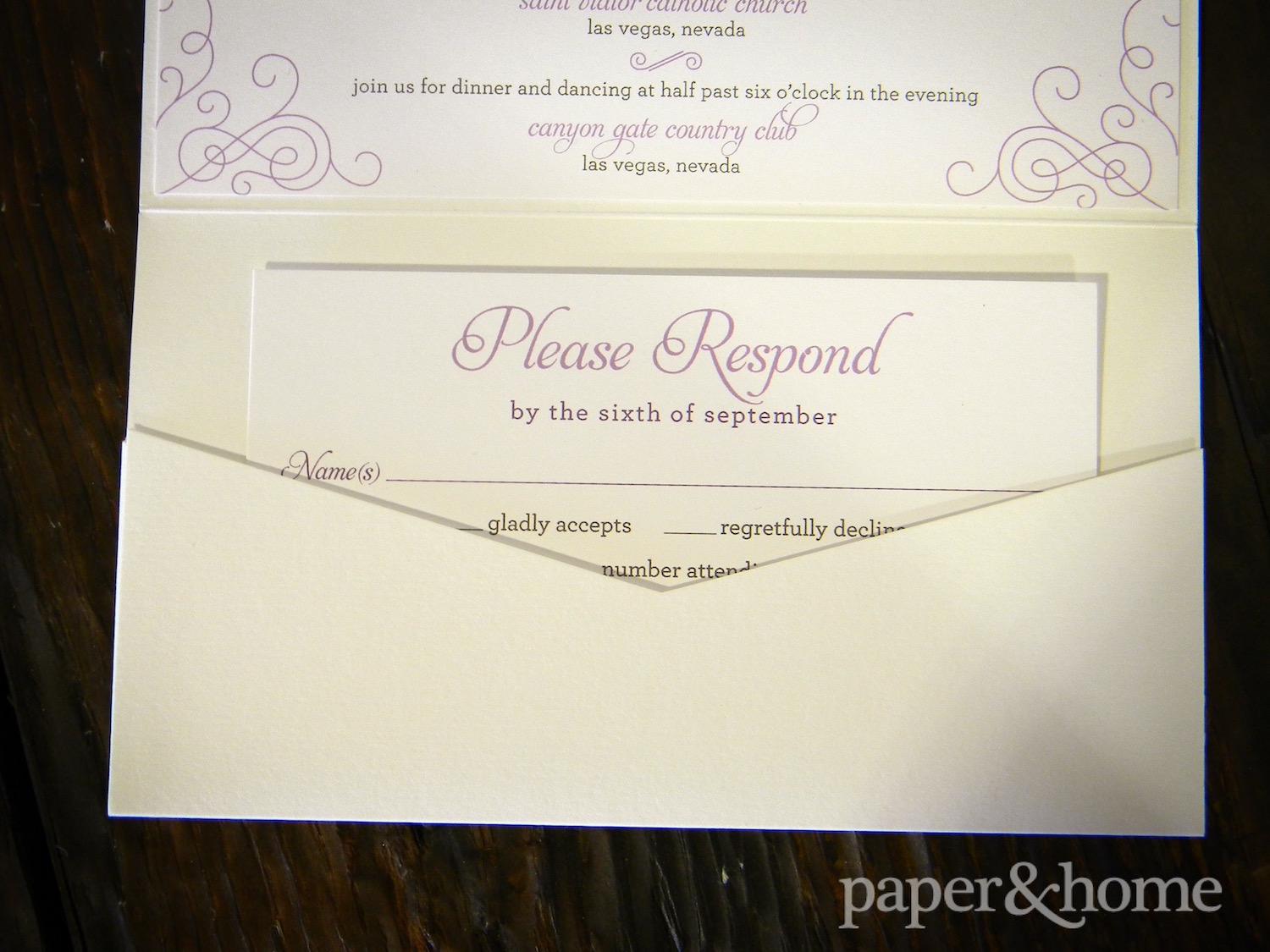 The pocket style wedding invitation was a great choice, as it adds an added dimension to the set. They chose to add in a reply postcard in pocket, which was a nice economical touch. Reply postcards are easy-peasy, making the RSVP process a little simpler, right on theme with their invitation set. The thick white stock they chose offers a great value and a stunning appeal as well. We designed matching envelope printing for Shannon and Michael, saving them a whole lot of time while making the sure the first impressions their guests received was a good one.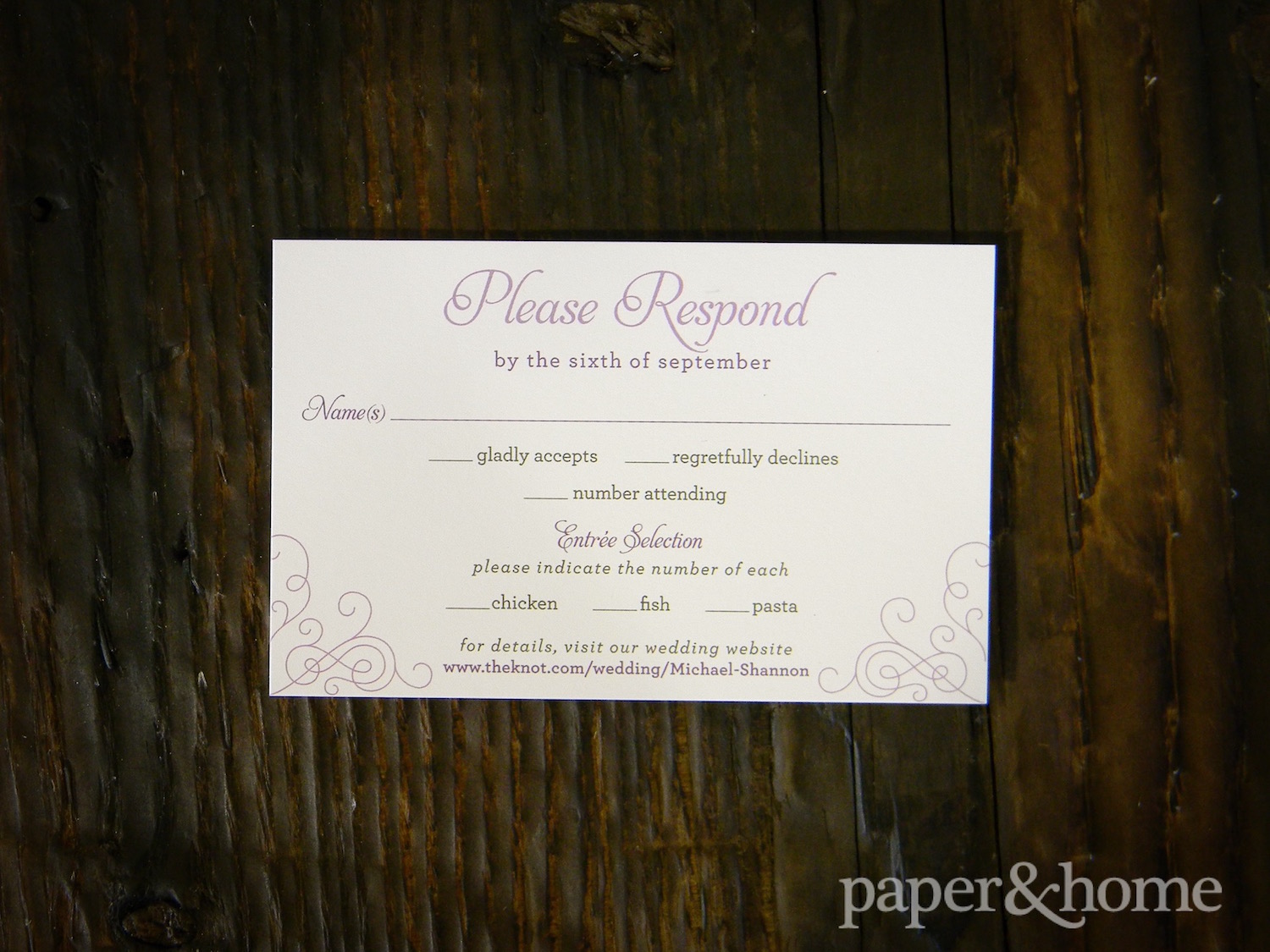 For the escort cards, Shannon and Michael opted for the traditional tented card. We incorporated their shades of purple to represent each guest's entrée choice for the reception. The custom monogram was incorporated into the backside of the cards, tying it all together.
The entire experience was amazing for our customers, and they were super happy with the results! We appreciate their kind words about our work and were happy to help them carry out their vision. Overall, the project we worked on for Shannon and Michael was a fun one for sure, and their invitation choice was more than appropriate for their wedding day. Shannon and Michael were wed at Canyon Gate Country Club in the Summerlin area of Las Vegas and we wish them all the best and a happy marriage!
Comments