<< BACK TO BLOG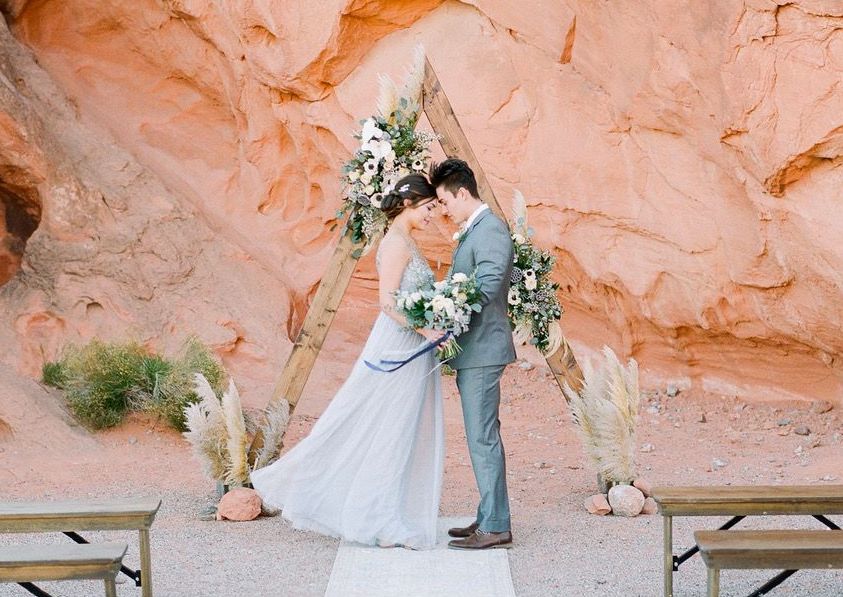 Everyone can agree that this season has been a hard one. But this rings especially true for engaged couples.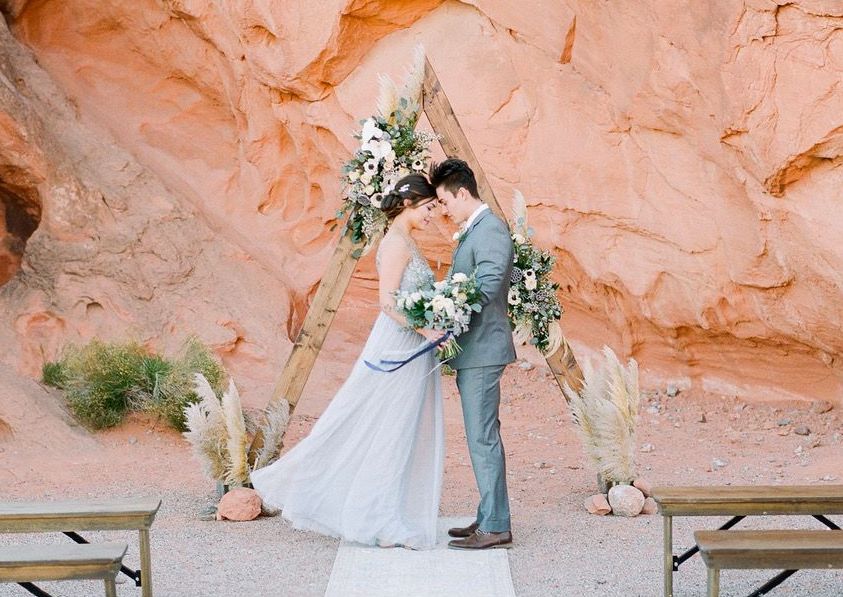 This pandemic has made a big impact on businesses, schools, mental health, and stock in TP but all jokes aside, it has been a tough year. The whole world was looking at 2020 bringing new vision and being a wonderful year of innovation, excitement, and WEDDINGS! Many couples were waiting for this year to tie the knot and with the pandemic in full force, we understand how having to change plans can be devastating. Just because the virus is stopping many events doesn't mean it has to stop your special day from still taking place.
1. Utilize Live Video Platforms
Are you still wanting your special date but not sure how to include everyone while adhering to governmental regulations? It is fortunate that technology has advanced and provides an answer to this dilemma. There are many platforms to choose from that will allow everyone to be a part of your ceremony and reception.
Some of these include: Zoom, Youtube Live, Facebook Live, and Skype.
These are easy to set up and allow your guests to not only view your ceremony but interact and still feel like they are celebrating with you.
2. Updated Invitations
If you are faced with having to change your date, you have probably already sent invitations. You will want to send out new information for your guests to either attend in person or virtually. These can still be sent by mail and stay with your theme to make your guests feel special. Here are a few ways to include your guests virtually: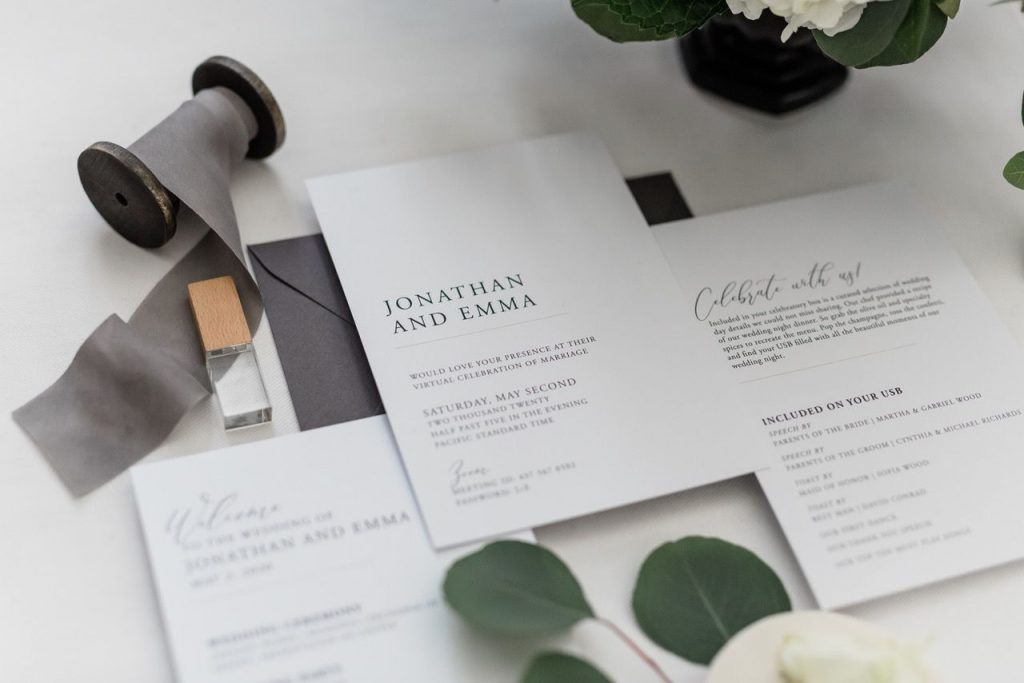 A Program:
It's always nice to have something to give details about the event. Including a program of all the sentimental moments that will happen or are recorded can help keep it personal and intimate – even online! Sending programs with your speeches, a list of your important people, and even a personalized thank you can add to your guest's overall enjoyment.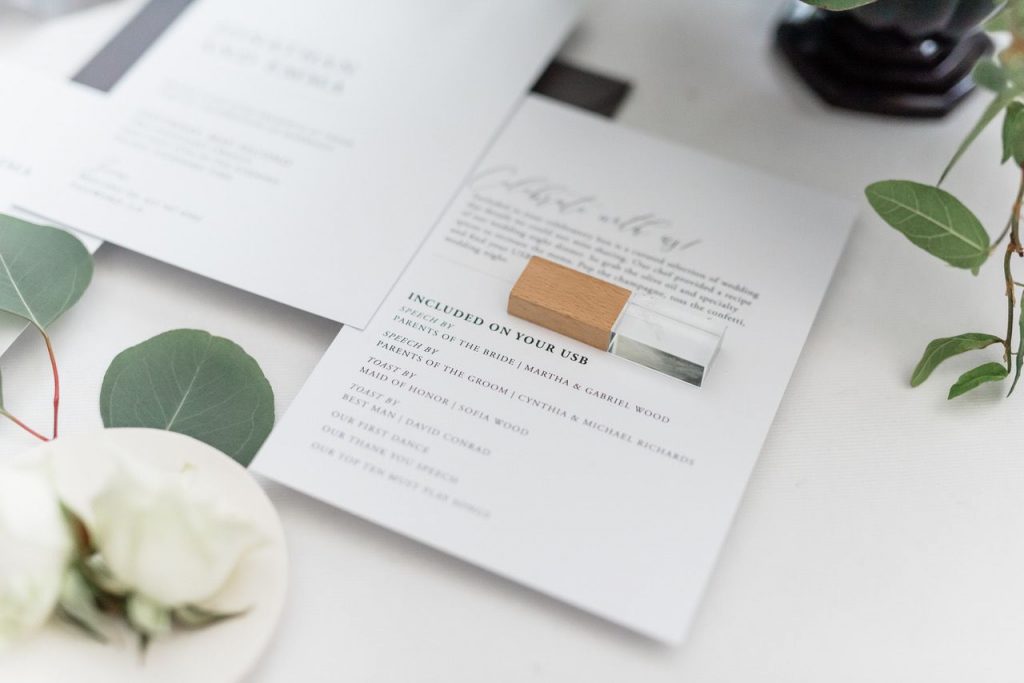 A USB including your ceremony:
To create a unique keepsake and a way for your guests to relive your day, providing them with a USB full of the recorded special moments of your wedding, such as, the ceremony, the speeches, first dance, cake cutting, and anything else you would like them to be apart of! This is a fun way to share your day with everyone.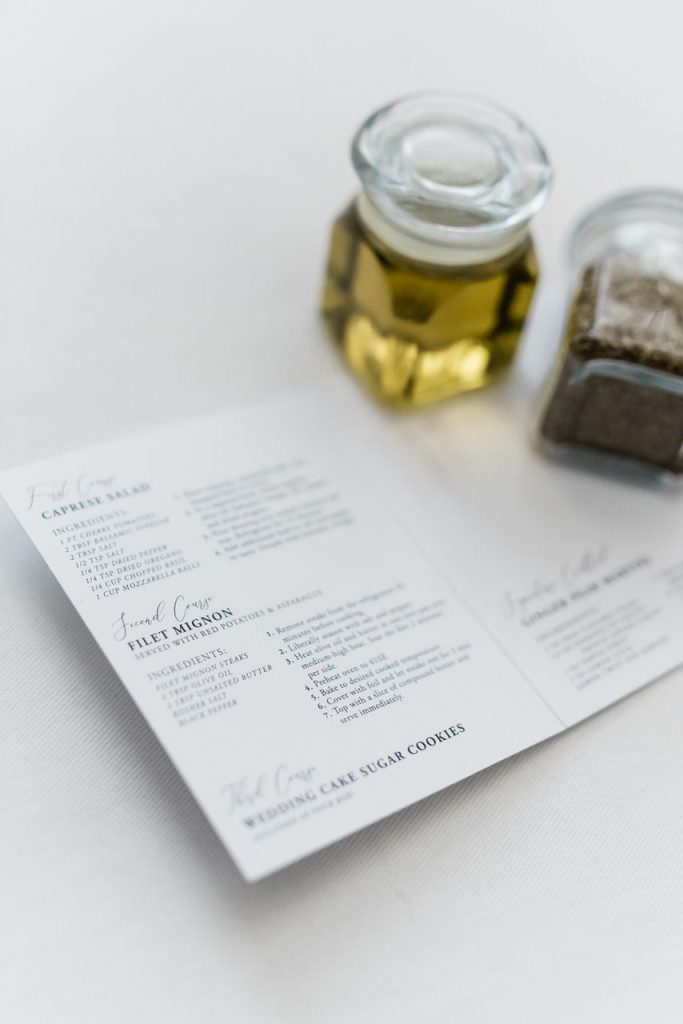 A Special Dinner Menu:
Since you won't be able to have a sit down meal with your guest, think about sharing your menu. Then your guests can all make the same dish while they watch you get married!
3. Consider Postponing – even partially!
If you're wanting to keep your guest list and celebrate with everyone out on the dance floor, postponing your wedding might be for you. As we see regulations relaxing a little, it might be best to postpone until next year. If your date is special to you, you can have your ceremony and postpone the reception. Either option will let your guests still be involved and will also allow you to have the celebration of your dreams!
If you want to learn more about how to efficiently postpone your wedding, read our quick tips if you're postponing your wedding.
You can still have the wedding of your dreams and included everyone – even from a distance!

Celebration Box: Scheme Events, Recipes: Red Rock Resort, Photography: Kristen Marie Weddings + Portraits, Floral: Flourish, Treats: Rolling in Dough Bakery, Location: Valley of Fire State Park, Nevada, Classic Car: Classic and Collectible Cars.
Coordination: @cactuscollectiveweddings, Coordination Asst: @myvegasvows, Photography: @elizabethburgiphotography, Hair &, Makeup: @ameliccandco, Floral: @gaiaflowerslv, Arbor/Seating: @cactuscollectiveweddings, Minister: @peachy_keen_unions, Invitation: @paperandhome, Donuts: @pinkboxdoughnuts, Models: @bianca.zorzi & @trav_little, Dress: @bhldn, Shoes: @badgleymischka
Comments