<< BACK TO BLOG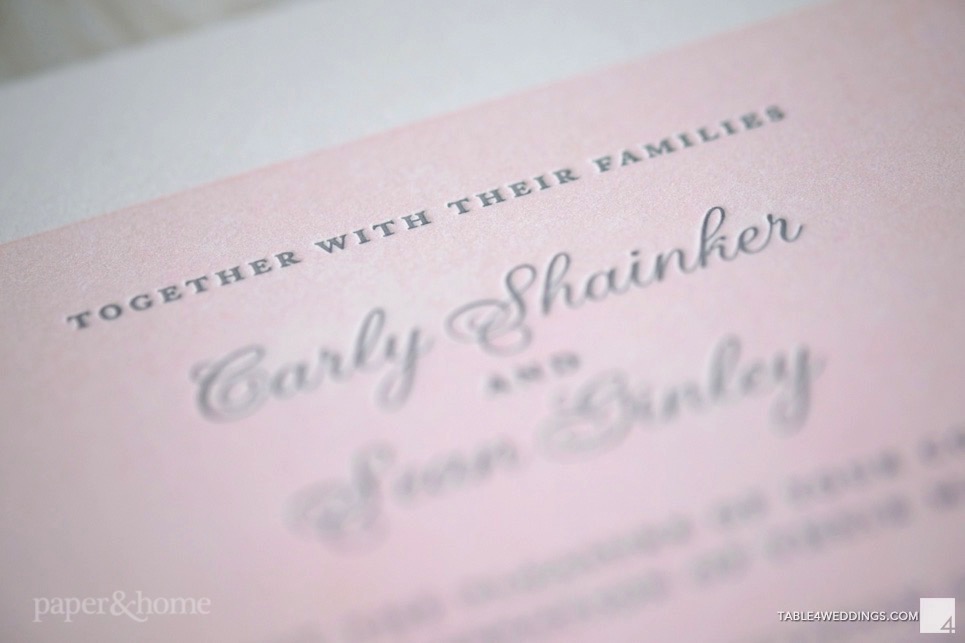 Carly and Sean's pink and gray letterpress wedding invitations are effortlessly beautiful. The simple details make this one very special invitation set.
The interplay of borders ties the whole design together. The invitation card features a soft pink letterpress color-block in the center. A thick, white border focuses the attention on the invitation wording in the middle. Speaking of thick, these cards must be held in your hand to truly appreciate their beauty. Printed on ultra-thick three-ply cotton stock, the cards feel substantial and luxurious in your hand.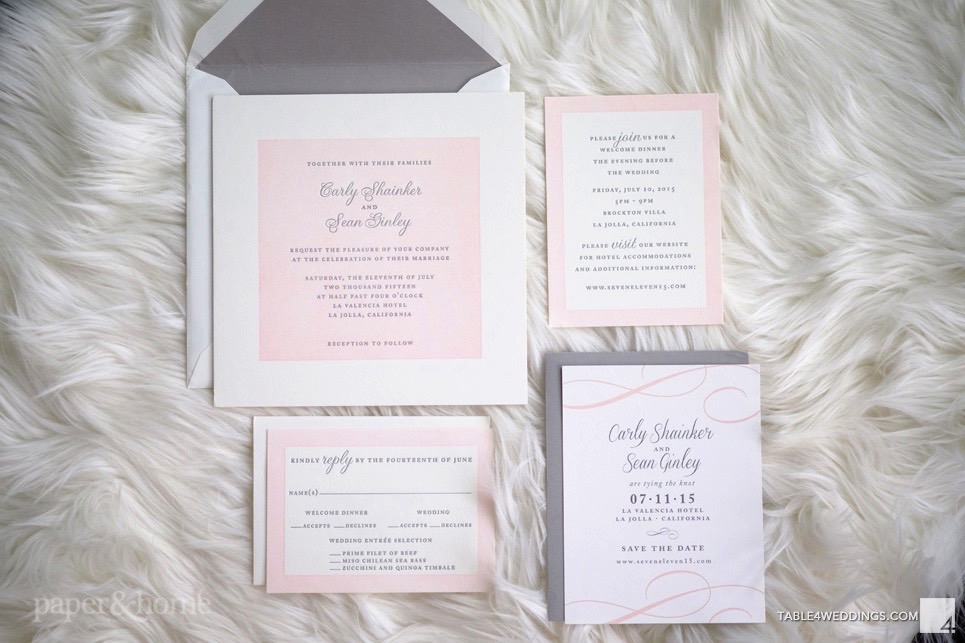 Letterpress wedding invitations are all about the tactility. This hand-done printing technique literally presses the inks into the paper. The thicker and softer the paper, the better. Carly and Sean's paper and ink choices are ideal for letterpress printing. Their photographer, Table 4 Weddings, wonderfully captured the beauty achieved by letterpress. You can see how gorgeous it is, but it truly must be held in your hand to appreciate. There's nothing like running your fingers across a letterpress wedding invitation! We suggest you come see us and feel for yourself!
Carly and Sean inverted the border for their reply cards and welcome dinner invitations. The gray ink remains the constant while the pink border encapsulates the rehearsal party invitation card.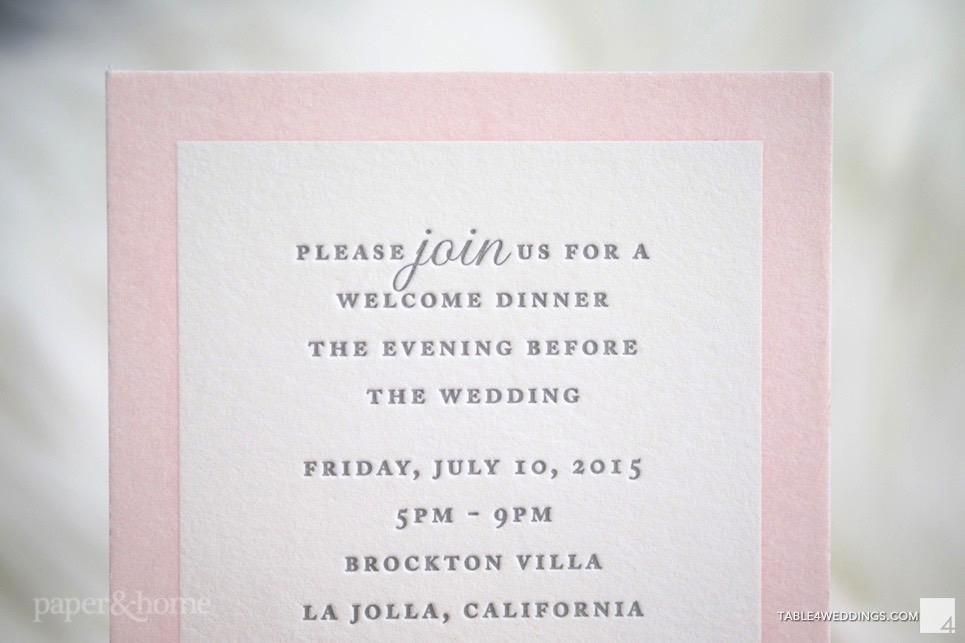 The elegant save the dates were digitally printed, but still emote Carly and Sean's classic style. They were a nice "teaser" for their guests, showing them that this wedding was going to be an elegant day at La Valencia Hotel in La Jolla, California. Followed up by their pink and gray letterpress wedding invitations, we're sure that Carly and Sean's guests were super excited to attend their wedding!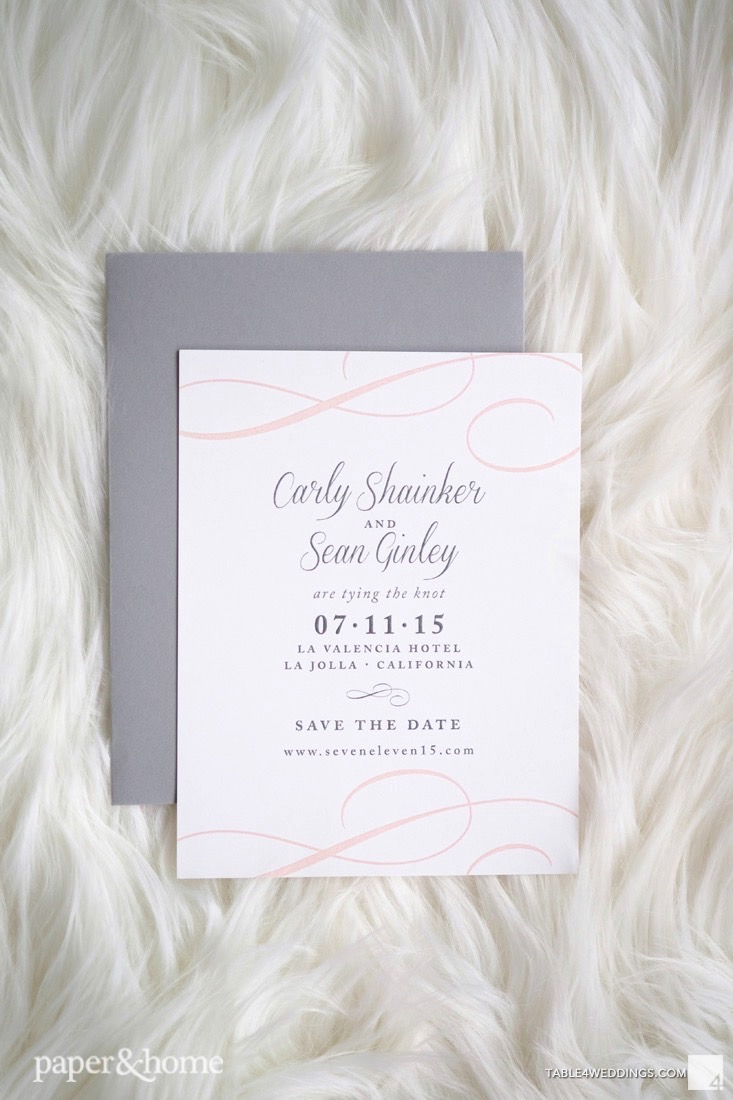 Thanks again to Table 4 Weddings for the lovely photographs from Carly and Sean's La Valencia Hotel wedding. What a stunning day it was! Congratulations to the newlyweds!
Comments