<< BACK TO BLOG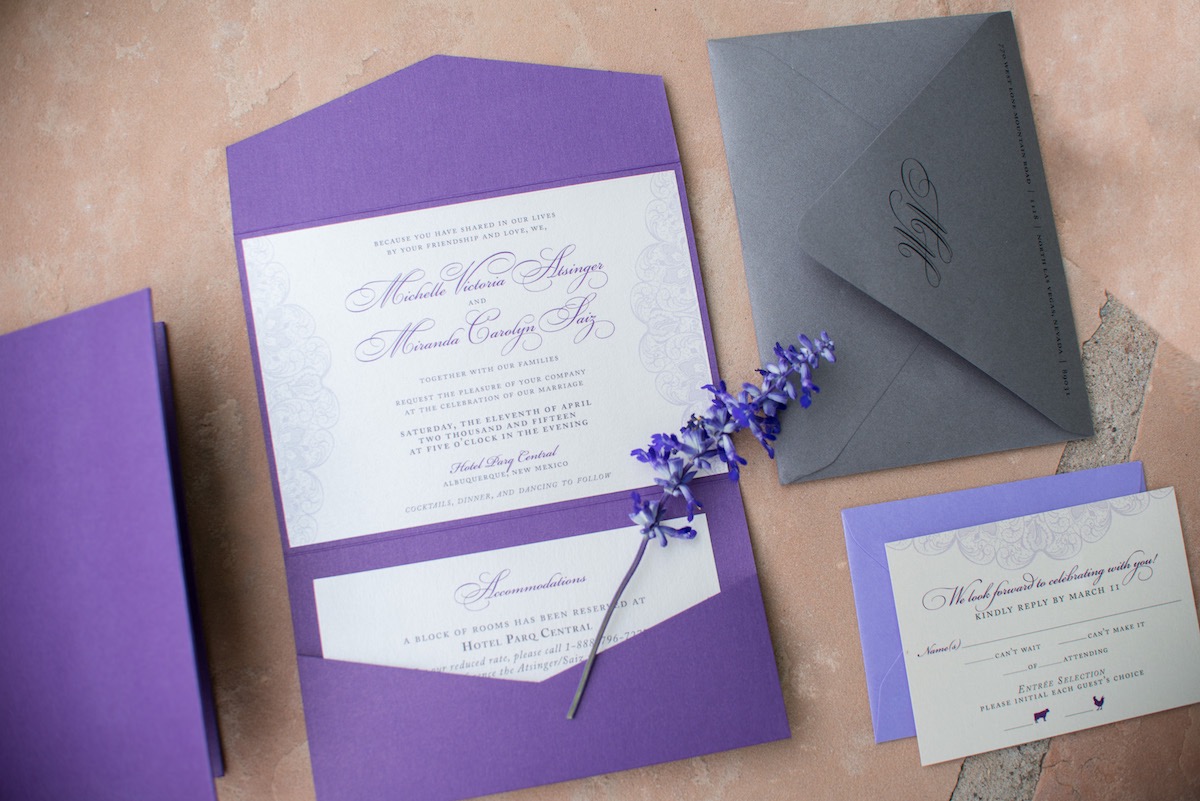 Michelle and Miranda first met us at Bridal Spectacular while planning their springtime wedding. After securing their venue, Hotel Parq Central in Albuquerque, they sought us out to design for their wedding stationery. After meeting with us, and perusing our ready-to-order line, they identified a collection and made it their own. The result, these beautiful purple lace wedding invitations.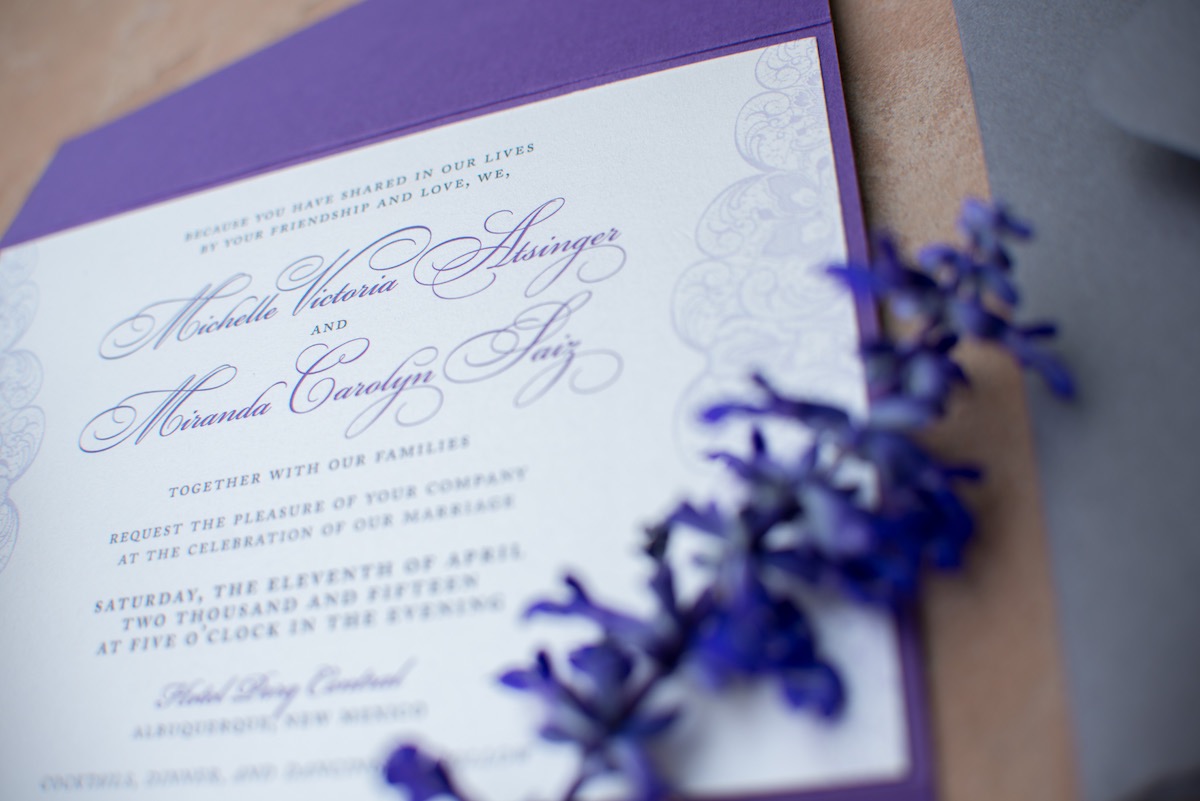 The complete set features the pearl shimmer wedding invitation card mounted in a regal purple pocket. The invitation card features a light silver/purple lace design. The couple's names are featured in a script font that's flourish-ey but easy to read. Inside the pocket, there was an accommodations card for the room block, along with a reply card. The reply card envelope introduced a second shade of purple to the invitation set.
The complete set features the pearl shimmer wedding invitation card mounted in a regal purple pocket.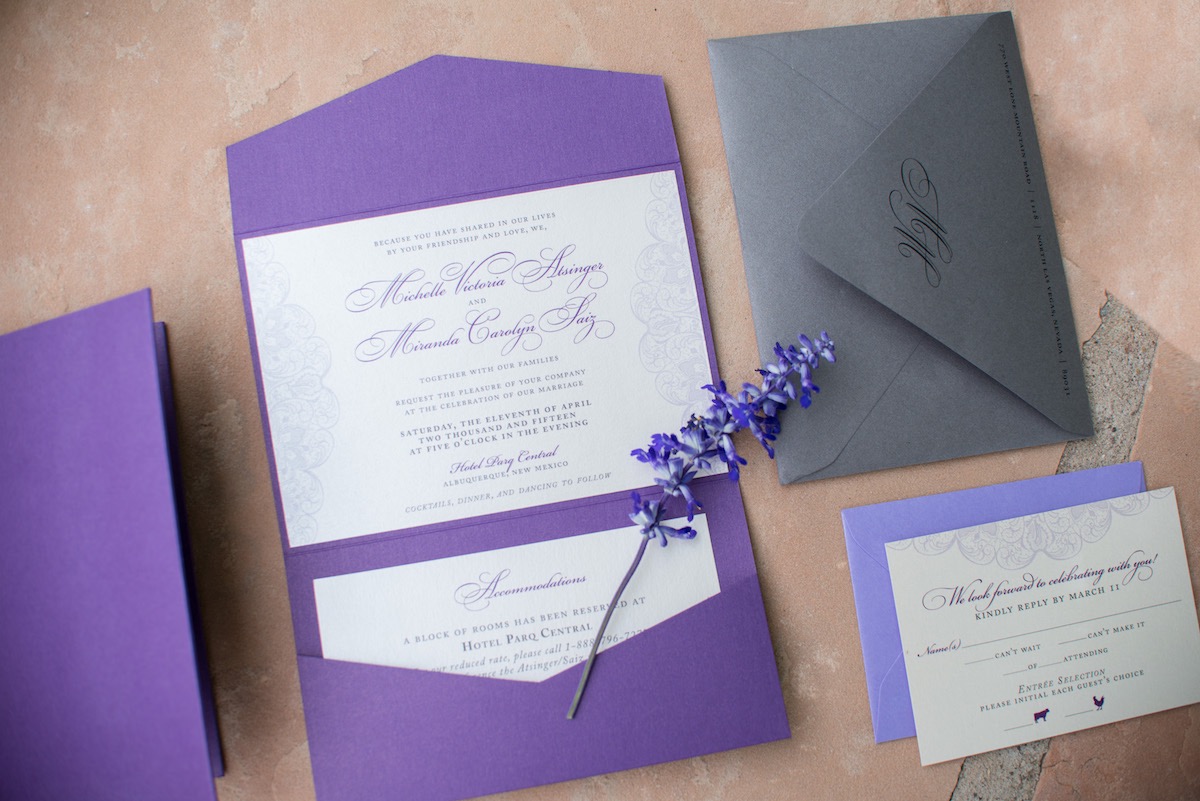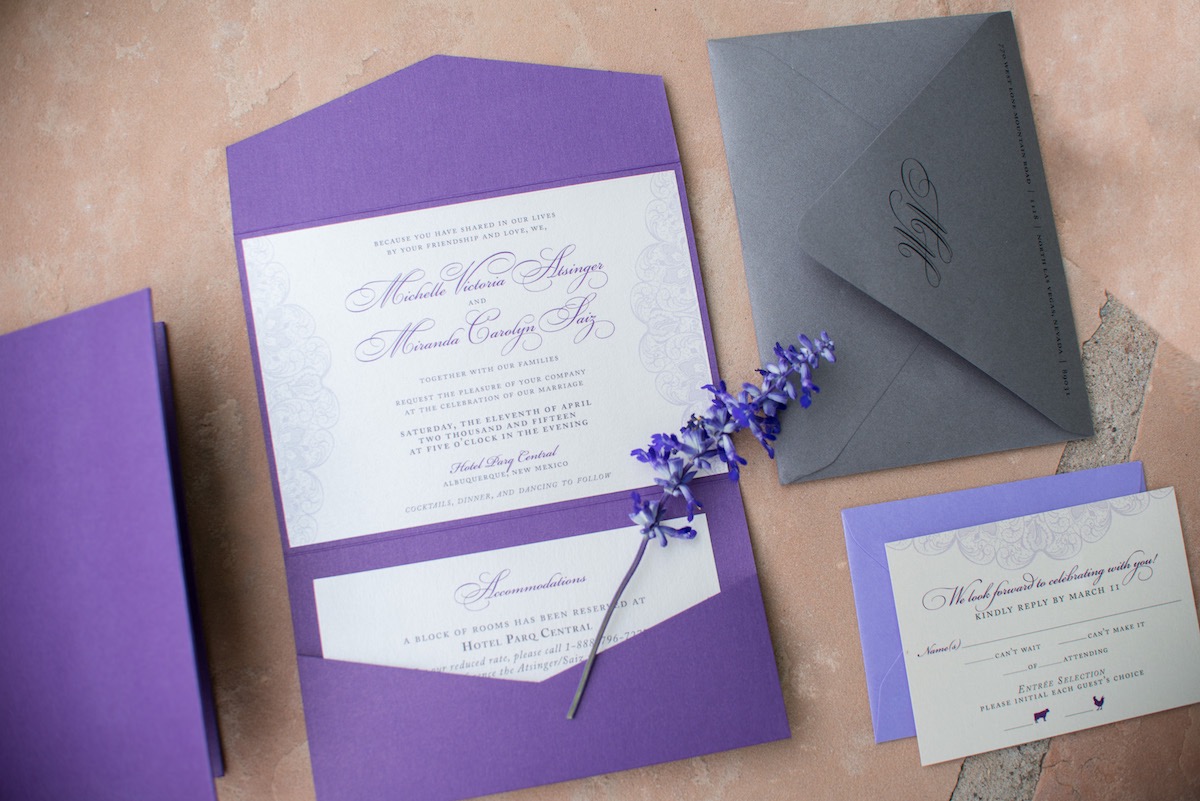 Michelle and Miranda printed their return on the back of the envelope along with a cute, MM monogram. The shimmery shadow gray envelope adds some contrast, while perfectly complementing the purple lace wedding invitations.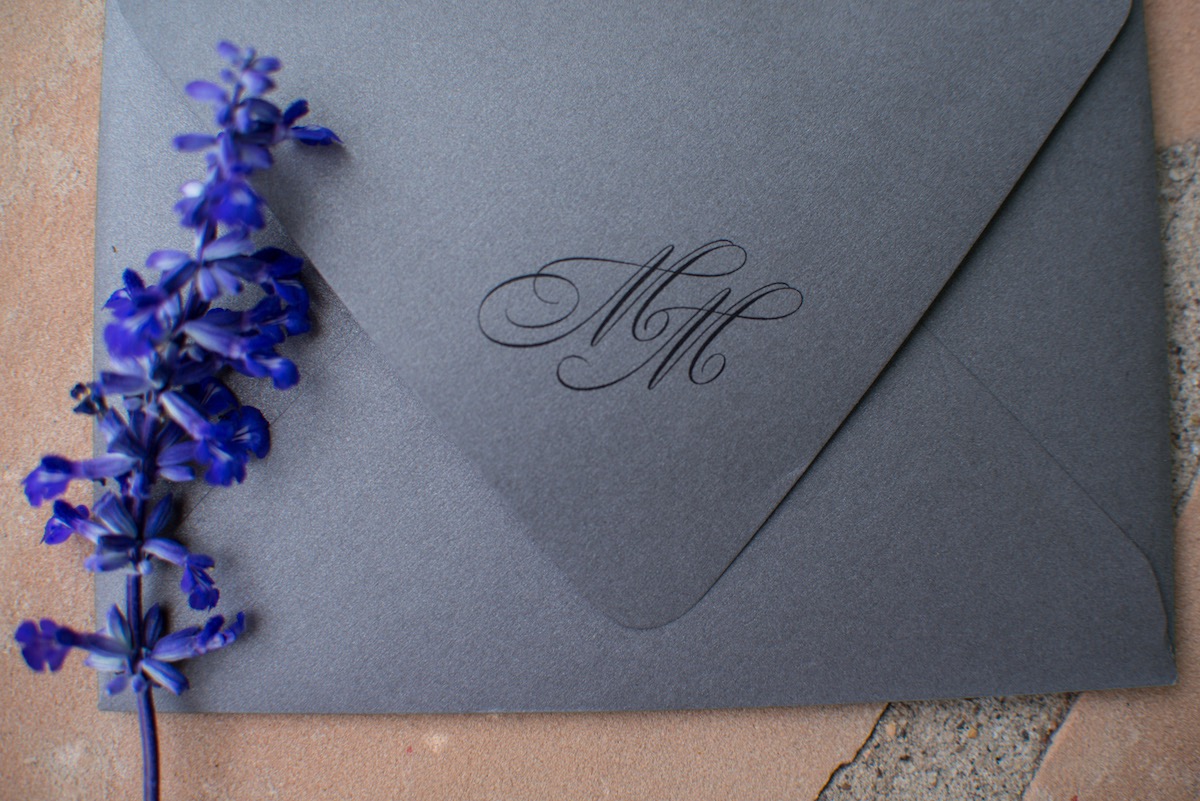 A detailed look at the reply card shows a purple cow and purple chicken for the guests' entrée selection. The couple pre-filled in how many guests were invited, allowing the guests to complete the rest. This idea keeps your cousin from inviting his new girlfriend and her children and their two best friends with their mommas to the wedding. It happens.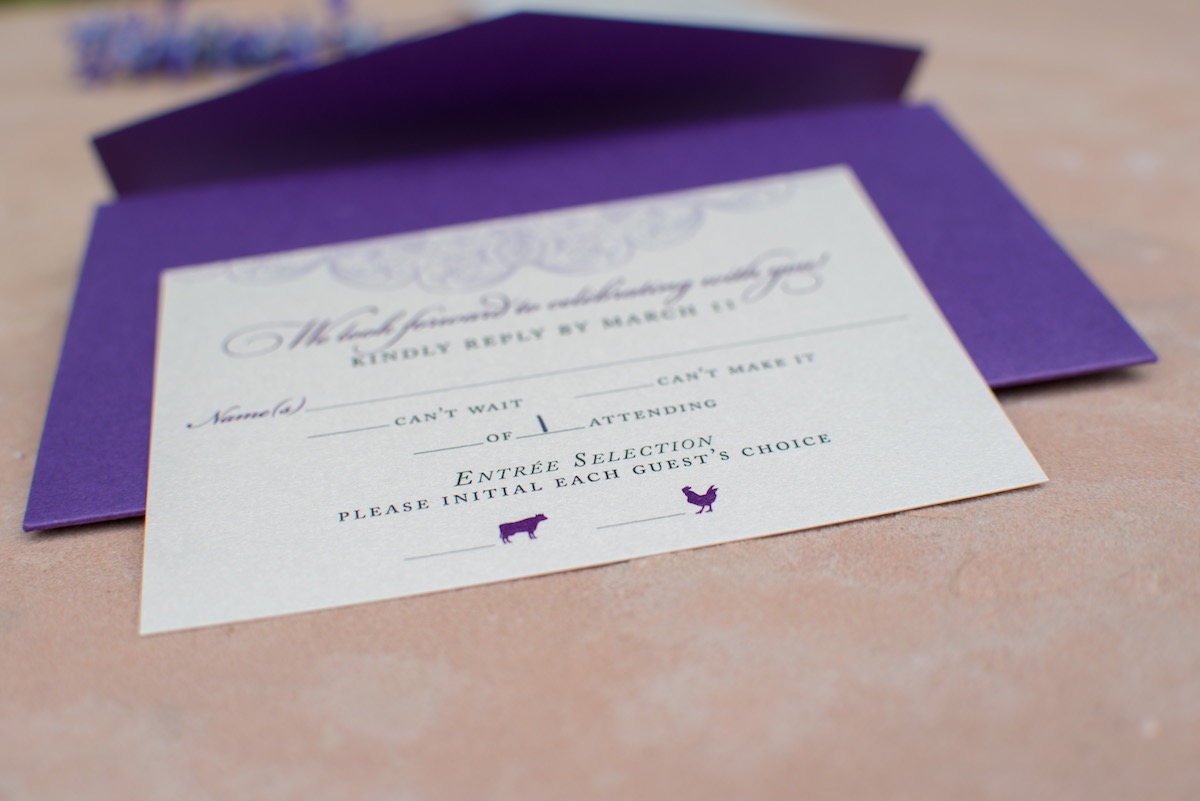 The couple chose matching place cards for the day-of, feautring their names and wedding date. The cards were printed with two different colors to indicate each guest's entrée selection to the wait staff at the wedding.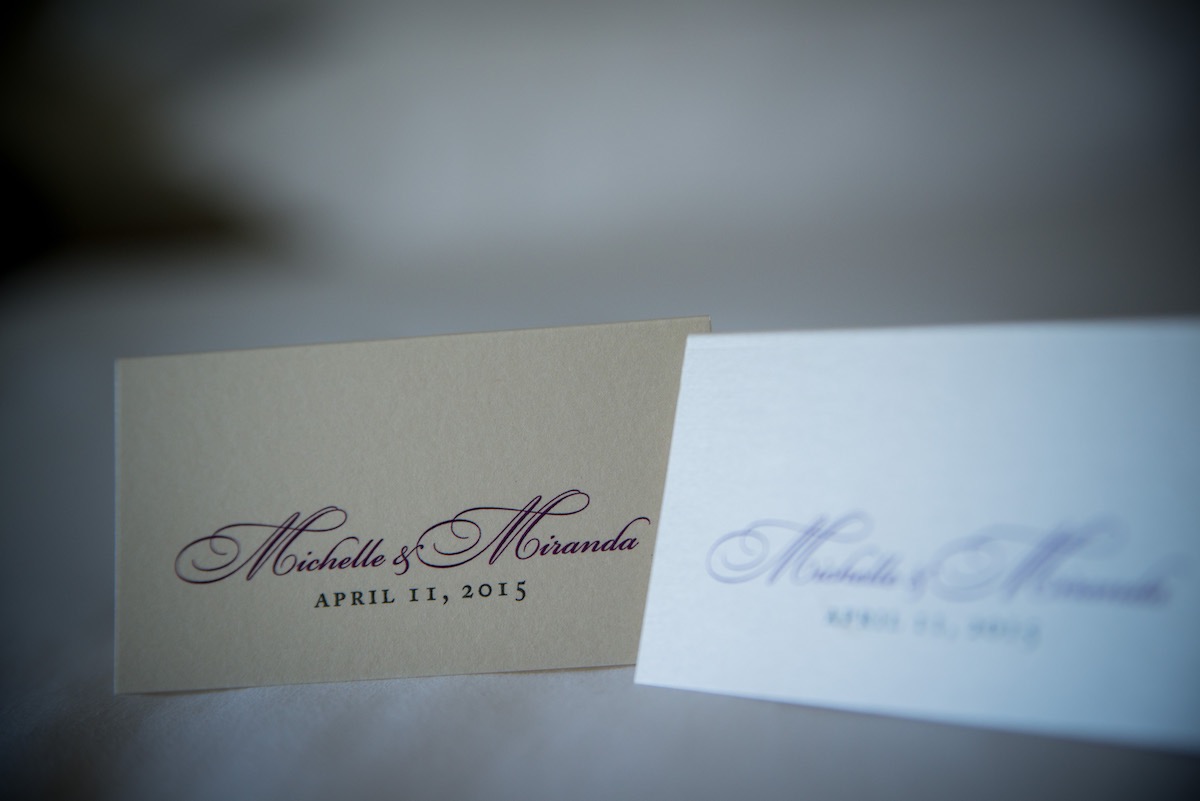 Miranda and Michelle were happily married in the spring of 2015. They loved working with Paper and Home so much, that they returned for thank you cards! Michelle even surprised Miranda with a custom 8×10 print of their vows for their one year wedding anniversary! Paper is the traditional gift for a one year anniversary, did you know that? 🙂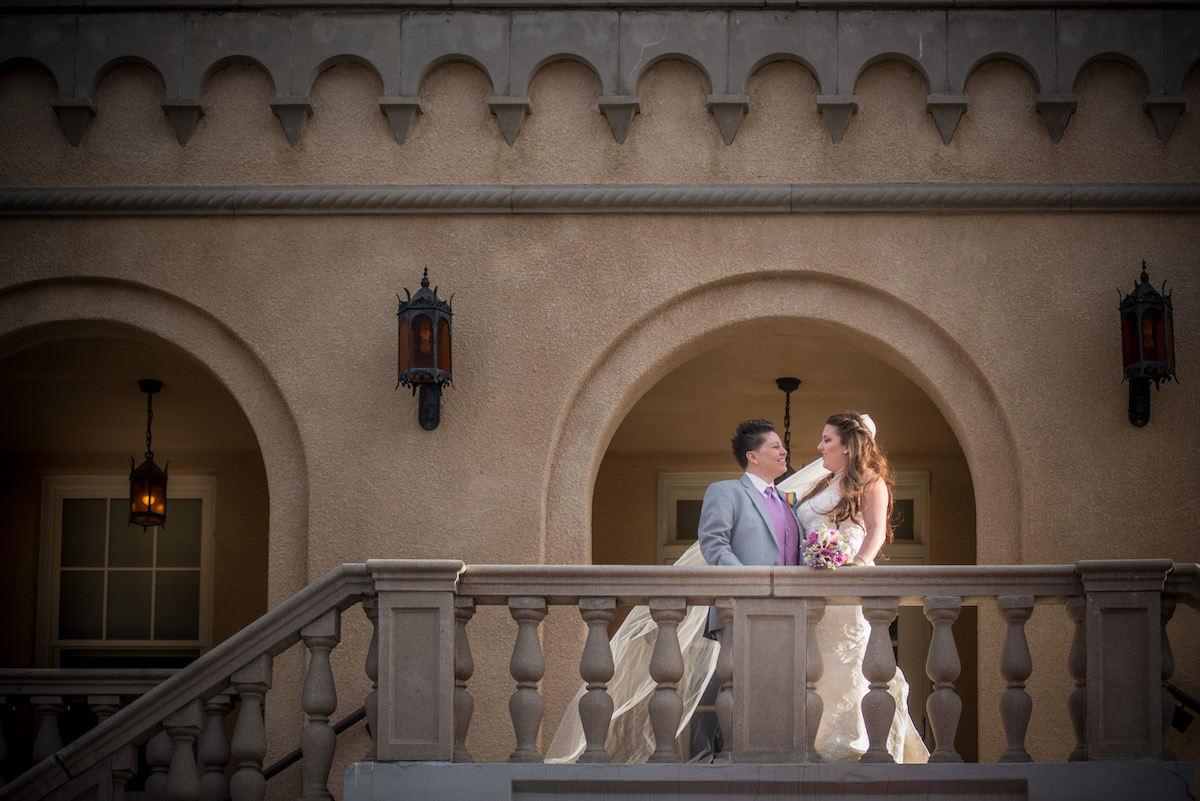 Thank You
Many thanks to Desiree & Seth, a husband-and-wife photography team with over 15 years experience, for providing these excellent images to us. Desiree & Seth are based in New Mexico, and travel worldwide. Check out some of their wedding photography highlights!
From the Wedding Venue
At Hotel Parq Central, we believe your wedding day should be as unique as your love story. Our team is commited to ensuring that each moment of your big day is truly yours from the intimate ceremony set in the courtyard to the customized menu you choose for your guests. From the moment you say "Yes!" to the moment you say "I Do," let our team be a part of planning the start of your Happily Ever After…
Comments