<< BACK TO BLOG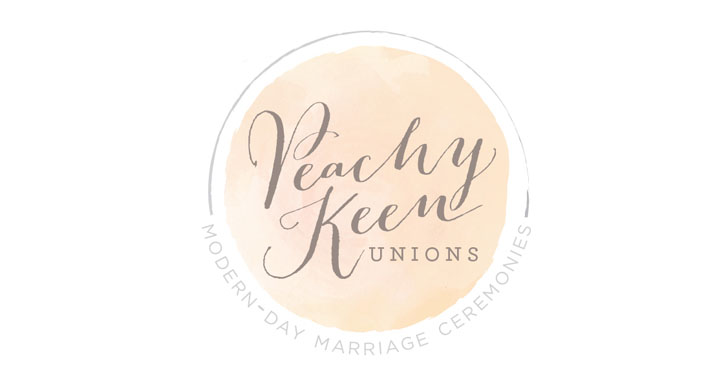 Angie Kelly, founder of Peachy Keen Unions, is sweet, understanding, and approachable. Her previous logo wasn't communicating that, so when she came to us with an idea for a watercolor logo design, we jumped for joy! As one of the friendliest and dependable wedding officiants in Las Vegas, we couldn't wait to get started on helping her brand vision come to life.    
Watercolor Logo Design
Angie let us know that she wanted something soft, feminine, and modern in her logo design. Watercolor was an important element to incorporate, as was the color peach—obvi!
Peachy Keen Unions is known for traditional and non-traditional ceremonies alike. Many of their weddings take place in the beautiful Las Vegas desert, so we went with a warm color palette inspired by our city's natural surroundings. The peach color is soft and pairs beautifully with the taupe lettering.
The flowing hand calligraphy type for "Peachy Keen" is coupled with a solid typeface for the word "Unions." Surrounding the circular portion of the logo is a hand-drawn line and a modern typeface for the company's tagline. Everything about this watercolor logo design is right on brand.
Watercolor is always fun to play with, as you never know where it might take the design. Is your brand's logo communicating with your clients the way it's supposed to? Get in touch today, we'd love to see how we can help.
About Peachy Keen Unions
"Don't worry about our title: Reverend, Minister, Pastor, Celebrant. Our beliefs are immaterial during the ceremony design process and our purpose is to mold tradition around the needs and taste of our beloved couples.
With a mission to collaborate with couples, creating and performing personalized ceremonies allows everyone to feel well represented while having their beliefs and characteristics reflected, regardless of the institution they marry in.
Whether you're secular, religious, interfaith, or simply a multicultural couple wishing to express yourself in a manner that is outrageously YOU, we'd be honored to assist!
It is all peachy keen with us, so long as the love is radiant."
Learn more about the duo behind Peachy Keen Unions here.
Comments